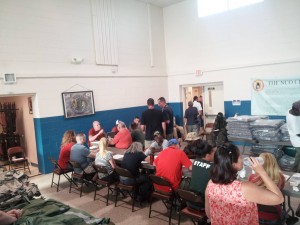 LATEST INFO: The VMC Board of Directors decided it was better to postpone the event until Fall 2022 due to uncertain COVID conditions that could impact such a large, indoor gathering. We hope many veterans, organizations and others will find ways in the meantime to help Homeless and at risk Veterans in Brevard County.
Since 1995 the VMC has supported a Stand Down to aid homeless and struggling veterans in Brevard County. The Annual Stand Down is a chance for veterans and friends of veterans to show those in dire straits just how much we care and remember their service in better times for them. The notion of Stand Down came from combat Marine and Army Infantry Units Ion Vietnam who saw days and days of battle action and were told to move to the rear for a brief "Stand Down" from combat to get a shower, eat some hot chow, clean weapons, etc. They were not on leave and life was still tough but they got help as needed from haircuts to medical treatment and knew others cared before they headed back to the daily battles they faced — just like homeless veterans do today.
Contact the Center on 321-453-1776 to learn more and to volunteer.