View from the VMC Tower with WWII veteran George Rosenfield at the podium
WWII and Korean War veteran George Rosenfield led off describing intense combat in 1944 in Italy against the Germans when his 10th Mountain Division pinned downed thousands of German soldiers who could not go to defend Normandy on D-Day. Joe Bartie, a US Army Korean War Veteran could not make it due to medical challenges, so Mr. Rosenfield shared a few minutes about his fighting as a Combat Engineer in North Korea when the Chinese invaded and pushed the American and UN forces back to the still existent DMZ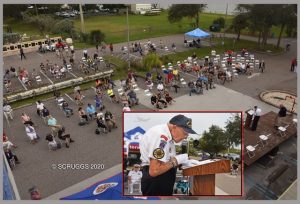 All over America including many places in Florida, many long running Veterans Day Ceremonies were scrubbed in this challenging year of 2020. That was not the case at the Veterans Memorial Center (VMC) on Merritt Island. Over 200 people attended a very well spaced outdoor Ceremony that celebrated "Stories of Service from veterans who served from WWII to Afghanistan.
Don Pearsall an Army Aviation veteran of two combat tours in Vietnam related harrowing moments including helicopter crashes and evading the enemy. Jamie Pritchett a local Chaplain and leader in the Trauma Healing Institute told stories about the home front during and after the Vietnam war including her contacts with Vietnamese citizens who thanked the US forces, one who was imprisoned for years due to that effort.
Dean Schaaf who served in the US Navy as an enlisted sailior and officer, the President pf the VMC told amazing stories about his Cold War experiences of tracking Soviet submarines to protect our country from nuclear attack. He ended by noting the Cold War had one ending in 1991 but is NOT over.
USAF veteran Brian Humphrey related his experiences during the Gulf War Operating Desert Shield and Desert Storm in 1990-91 when he supported U-2 intelligence gathering missions out of Saudi Arabia which proved crucial for American success in what became a 100 hour war. The youngest veteran speakers was Eric Hoppenbrouwer who served with the Army's 101st Airborne/Air Assault Division in Afghanistan during his enlistment 2010-13 and shared his experience in what has become America's longest war.
The Ceremony also included special awards of "Quilts of Valor" to four other veterans: Gary Wilson, Navy; Nicholas Sine, Army; Phillip Arsenault, Army; and Dave Cherepon, Navy. Karmal Sowers, who leads the Space Coast Quilts of Honor Society, and her team presented the personalized quilts to each as part of the nationwide effort by quilts of valor to honor American veterans. Nationwide thousands of quilts have been presented. The Celebration ended with inspiring music and all singing "God Bless America". Many remarked they were very glad they came and al, veterans in attendance were moved by the fact they are appreciated and live in a great County in which to be called veteran.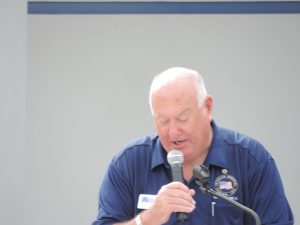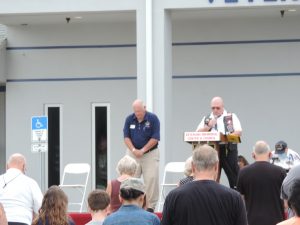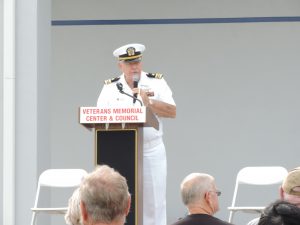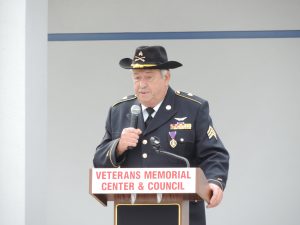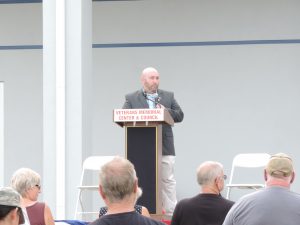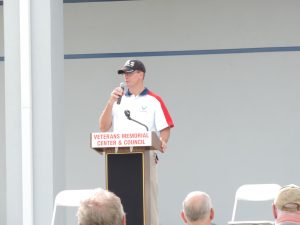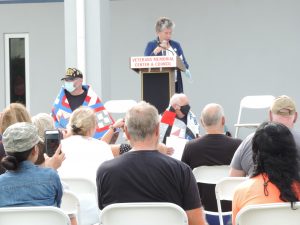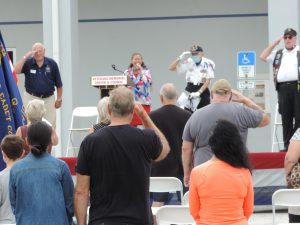 Quilts Of Valor Presented to Four Veterans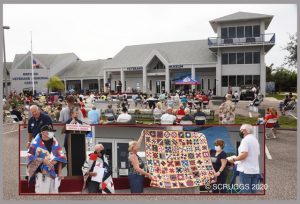 Sheriff Ivy Assists WWII Veteran Peter Diaz