UPCOMING EVENTS: Each year the Veterans Memorial Center hosts many events with and for other veteran organizations. Please join us for these events. Veteran or not, they will mean something special to you as an American and by having many people attend, the veterans of Brevard know America still cares about their service and sacrifice.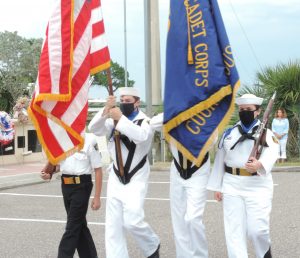 RECURRING ORGANIZATIONAL MEETINGS: The beautiful waterfront facilities at the Veterans Memorial Center are being used by veterans and other Brevard organizations. Call 321-453-1776 ext. 2 for information if your group would also like to meet here. This is a major source of our funding because the Museum, the Library and the Plaza — are FREE.
Veterans Memorial Center
VMC Board of Directors Meeting – 1st Wednesday monthly, 0930
VMC General Membership Meeting – 2nd Wednesday monthly, 0930
Veterans Organizations
The VMC is home base currently for a number of Brevard County Veterans Organizations. These organizations meet at the VMC on a monthly basis and are not charged for facility use which frees up their funds for veteran and other community support services.
American Legion Post 344 – Last Thursday monthly, 1800-2000
American Legion Auxiliary Unit 344 – 2nd Thursday monthly, 1900-2100
Disabled American Veterans Chapter 123 – Varies, 1200-1300
Fleet Reserve Association Branch 263 – 2nd Wednesday monthly, 1800-2000
Good Deeds Foundation Board of the Military Officers Association of America Chapter – 2nd Wednesday monthly, 2-4pm
Marine Corps League Detachment 513 – 1st Thursday monthly, 1800-1930
Military Order of the Purple Heart – 4th Monday monthly, 1130-1400 Hours
Navy League – 1st Monday monthly, 1800
Rolling Thunder FL Chapter 1 – 4th Sunday monthly, 1400-1600
Space / Treasure Coast Chapter OCS (Army) (Three times annually)
U.S. Coast Guard Auxiliary – 2nd Tuesday monthly, 1800
U.S. Coast Guard Auxiliary Exec. Meeting – 4th Wednesday monthly, 1800
NOTE: Vietnam and All Veterans of Brevard do not meet at the VMC
Non-Veterans Organizations
America's Boating Club – 1st Tuesday monthly, 6-9pm
America's Boating Club Exec. Meeting – 4th Wednesday monthly, 5-8pm
BNI – 2nd Tuesday monthly, 7-8:30am (Zoom only)
Blue Knights Motorcycle Club – 2nd Saturday monthly, 10-11:00am
Bone Builders– Every Monday and Thursday, 10:30-11:15am
Bridge – Every Wednesday and Thursday weekly, 12-3pm
Cape Canaveral Ladies – Varies, 2-4pm
FL Sports Fishing Assoc. – 4th Tuesday monthly 6:30-9:30pm (except Jan/Aug/Dec)
Friday Night Dance – 1st and 3rd Fridays monthly, 7pm
Sea Cadets – 1st and 3rd Saturdays monthly, 8am-2pm
Space Coast Jazz Society – 3rd Sunday monthly, 2-4pm
Table Tennis – Every Monday 8-10pm and Wednesday weekly, 7-10pm
Zumba – Every Monday (Low Impact) and Thursday and Friday weekly, 9-10am