Next Big VMC Event
30 May – Memorial Day Ceremony at the VMC 0930-1030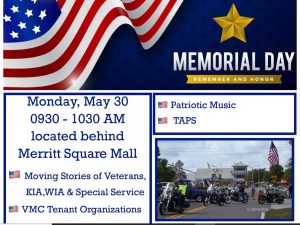 30 May — Memorial Day Ceremony at the VMC 0930- 1030. Reflections on Sacrifice will include stories of KIA, WIA and Special Veterans who have died in service to our country. First Responders who have fallen also honored by Sheriff Ivey. A unique Ruck March of 5K will take place to pause and reflect on the photo and name of a fallen post 9/11 hero, which is carried by each participant. Special exhibits, VMC partners, refreshments will add to the atmosphere.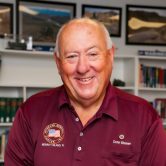 An Unofficial Upcoming Brevard Veterans Events Community Calendar – 2022
Contact VMC or Donn Weaver (321-613-2403) for any calendar questions or additions.
MAY
01-02, 5-8 May — Florida's 34th Annual All Veterans Reunion with The Vietnam Traveling Memorial Wall and GWOT Wall sponsored by VVB at Wickham Park in Melbourne. Vendors, Vet org exhibits, music and much more 0900-1900 from 05 – 07 May, with take down on 08 May. Contact 321-690-0805 for more info or 321-652-4185 to register as vendors.
14 May — First Annual Children's Charities 5K walk/run at the Veterans Center Memorial Park. 0730-1200. Sponsored by the Rockledge-Viera Kiwanis Club and the Cocoa Beach Optimist Club with all funds received going to support local youth. The Running Zone is lining up the event. Check flyers in the local media for more details, especially on line at Florida Today Page A3 on 08 April 2022.
26 May — Office of Sen. Marco Rubio monthly office hours for veterans to report issues and questions to the senator. VMC Library 1400-1600. POC: Tom Self 407-254-2573. Appointments encouraged.
27-28 May — Heroes Honor Festival at the Daytona Speedway featuring Friday evening tributes to the Fallen; military flyovers, Toby Keith, Justin Moors, LTG Jerry Boykin, Ann-Margaret and many more to honor Vietnam and all veterans in the "Biggest Baddest Most Patriotic Celebration. Tickets required but veteran discounts and even free tickets for Vietnam veterans are available. Check the Heroes Honor Festival 2022 we site. The event is open to everyone.
30 May — Memorial Day Ceremony at the VMC 0930- 1030. See Sidebar.
30 May — Cocoa Riverfront Park Memorial Day Parade and Ceremony 1600-1800 to honor and reflect on those who gave the ultimate sacrifice for our country and their Gold Star families.
JUNE
04 Jun — BCSO Sponsored "Dancing for the Stars" annual event and fundraiser for selected charitable organizations. 1700-2100 at Clemente Center on the FIT Campus. VMC is one of three 501(c)3 organizations that will benefit from the proceeds of this great fundraiser. Details of the event, tickets, and how to support the VMC sponsored dancers follow in March. Special thanks to Sheriff Ivey and his team for selecting the VMC in 2022!!!! LTC Tim Thomas, USA, Ret is the VMC Dancer so vote and donate for his team.
30 Jun — Office of Sen. Marco Rubio monthly office hours for veterans to report issues and questions to the senator. VMC Library 1400-1600. POC: Tom Self 407-254-2573. Appointments encouraged.
JULY
04 Jul — Fourth annual VMC/BCSO Merritt Island Independence Day
Parade 0900-1100. Details follow in May.
AUGUST
07 Aug — Fourth Annual Military Order of Purple Heart Brick Honoring Ceremony (1400-1600) VMC Gray Hall which will recognize and learn the stories of 10 Purple Heart Recipients then inducted into the MOPH VMC Plaza Monument Walkway.
07 Aug — Forever Remember 9/11: A Salute to First Responders FundRaiser Dinner. 1700 at Space Coast Convention Center /Holiday INN Express Cocoa. Sponsorships available, Seats at $45 each for individuals. Proceeds to hold the 2022 Remembering 9/11 Ceremony in September at VMC , as well as to support the American Police Hall of Fame, the VMC and Club 1013 of retired NYPD Officers in Brevard. Contact: artgrenci@yahoo.com or. JaneyH@aphof.org for more information
SEPTEMBER
11 Sep — Remembering 9/11, 21 Years Later: Honoring The Fallen on
that Day and those who fell later as a result of those attacks, as well as
those who went to the fight for over 20 years thereafter. VMC Center,
Outdoor Ceremony 1700-1900.
OCTOBER
07-08 Oct — The Central Brevard "Veteran Stand Down to Stand Up" (Formerly known as Stand Down) event will be held at the Cocoa Armory on 07 October (set up) and 08 October for the actual activity. This event, with a 25 year history, was postponed due to COVID 19 in 2020/21. As many as 200 homeless and at risk veterans usually attend the event with more than that number of volunteers providing a wide range of services from the private sector, the VA, the Medical Community, charitable organizations, etc. The Veterans Memorial Center (VMC) is the primary organizer of the event, but partners with National Veterans Homeless Support (NVHS) and dozens of others to help the program support many veterans in need. Planning meetings begin in July 2022 at the VMC. This event will focus on homeless and at risk veterans and their families, while matching the veterans with job options on the Space Coast. Contact BVC Council Chairman Donn Weaver 757-871-6576 for more information.
27 Oct — BCSO Free Shredder Event at the Veterans Memorial Park 0900-1100.
TBD Fall — The Space Coast Food Festival 1400 – 1830 at the VMC and Veterans Memorial Park. Sponsored by the Cocoa Beach Regional Chamber of Commerce. This popular, community event has been held at the Port and other large venues. Room for organizational tables and canopies as well as good entertainment and great food to sample. POC is CBRCC 321-459-2200.
NOVEMBER
11 Nov — VMC Veterans Day Ceremony 0930-1100 with lunch and
refreshments.
12 Nov — St Francis Reflections Veterans Dash for LIFE 5K (0800-
1200) in the Veterans Memorial Park to celebrate Veterans Day week,
honor veterans and raise funds for SFR county wide veteran support
programs. Contact Gloria Lorey of SFR 321-423-0506 for more
information.
——————————